Water Damage Restoration Denton County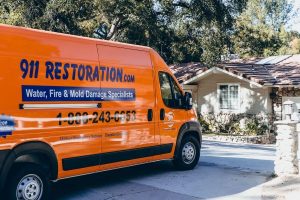 Call 911 Restoration of Denton County for emergency water damage restoration in Frisco, Denton, and beyond. Our highly trained, IICRC certified flood cleanup crew is here for you 24/7/365. They guarantee an arrival time of 45 minutes or less so you can get through this disaster quickly.
At 911 Restoration, we believe in the Fresh Start philosophy. Our technicians see every disaster as an opportunity to rebuild your property even better than before. This is why we offer full-service water damage restoration. Whether you call us for a ceiling leak or a pipe burst, you can expect our crew to handle everything from water removal to roof repair. 911 mold restoration offer a mold inspection and mold remediation. Whatever it takes to make your home or business brand new.
We also realize how much your property means to you. Seeing it contaminated by sewage or ravaged by a tornado is undoubtedly heartbreaking. Our flood cleanup team is committed to providing immediate peace of mind and full-service solutions. This includes a free visual inspection (for property owners only). We also work with all insurance providers and assist with the complicated insurance process.
911 Restoration of Denton County is licensed, insured, and bonded. We are locally owned and operated, which means the people overseeing your restoration project are personally invested in preserving the properties that make Denton County beautiful. We serve both homes and commercialproperties with comprehensive relief from commercial emergency restoration services in Houston, Frisco, Denton, Lewisville, and throughout the county.
Whether you're dealing with a pipe burst or a washer machine flood, this is not the end for your property. In fact, with 911 Restoration on your side, this is a new beginning. Call today for a Fresh Start.
Comprehensive Commercial and House Flood Cleanup in Frisco
When our water damage restoration crew arrives at your property, they're not just thinking about water removal. They're focused on making your home or business as clean and fresh as the day you moved in.
Their first goal is to get all standing water off your property as quickly as possible. Water seeps deep into the structure of your home or business. The longer it remains, the more serious your damage becomes. You may find yourself dealing with rotting wood, crumbling drywall, or extensive mold contamination. A fast response minimizes the risk of that kind of damage. This is why it's a good idea to turn to 911 Restoration. We offer 24/7 availability and a 45-minute arrival time.
If you have widespread water damage and any belongings in harm's way, our flood cleanup technicians pack out and store those items for you. They take care of any emergency services you may require, including leak detection, boarding up, roof repair, and storm repair. Then they handle water removal or sewage extractionas quickly as possible.
After they complete water removal, the water damage restoration workers dry the area with professional blowers. They also sanitize as needed and conduct a water damage inspection. We make sure all members of our flood cleanup crew are skilled in property repairs so they can take care of any damage they may find. We also provide an extensive mold inspection and remove any mold due to water damage.
By the time our flood cleanup experts leave your property, you see no evidence of your pipe burst or storm damage. Your property feels fresh, clean, and new.
You shouldn't have to settle for basic water removal. If you need flood cleanup, call the company that promises a Fresh Start. Call 911 Restoration of Denton County today.
Does Insurance Cover Water Damage Restoration?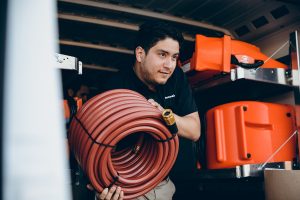 Dealing with insurance after a pipe burst or property flood can be complicated. You may know for a fact that your provider covers water removal, but you're not so sure about drywall replacement or mold remediation.
Don't worry. We can help. 911 Restoration works with all insurance providers and we're happy to help you find the answers you seek.
An expert on our water damage restoration staff sits down with you for a free insurance consultation. They walk through your policy with you, explaining the extent of your coverage in clear terms. By the time the consultation is over, you know what level of support to expect from your insurance provider. You also know which flood cleanup costs fall to you, if any.
Our assistance doesn't end there. Our water damage restoration experts are happy to guide you through inventory and loss itemization. When everything is settled, we file your insurance claim for you. Then, we bill your provider directly. We pursue payment so you can focus on rebuilding your life.
At 911 Restoration of Denton County, we believe excellent flood cleanup service is about more than quality water removal and repairs. We consider it our job and our privilege to help you find clarity and peace in the midst of a property crisis. Above all, we're determined to give you a Fresh Start.
Call 911 Restoration today for the service and compassion you deserve.
Serving the communities of Argyle, Denton, Flower Mound, Frisco, Lake Dallas,Lewisville, Little, Elm, Roanoke, The Colony and surrounding areas.