Water Damage and Mold Removal in Denton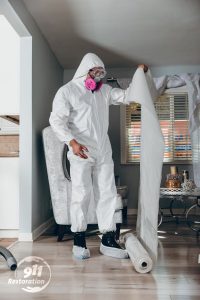 From a world-famous rodeo to a close-knit community, Denton has a lot to offer everyone who lives and works here. However, this beautiful city is not without its drawbacks. Storms, tornadoes, and humid summers can wreak havoc on local properties. Not to mention, property owners are always susceptible to typical malfunctions like pipe bursts and washer machine floods. Fortunately, both home and business owners can always turn to 911 Restoration for expert mold removal and water damage restoration in Denton.
Our emergency flood cleanup staff is here for you 24 hours a day, 365 days a year. To put your mind at ease, we guarantee an arrival time for 45 minutes or less for all properties in our service area. In addition to water damage restoration and mold removal, we also provide fire restoration in Denton and throughout the county.
Our fire and flood cleanup staff is IICRC certified and highly trained. Every technician on our staff is driven to provide a Fresh Start for you and your property. They take care of everything you need, from water and smoke removal to roof and drywall repair. When you call us, you never have to bother with additional contractors.
We understand how important communication is when it comes to something as precious as your property. Trust our water damage restoration techs for transparency and honesty throughout the process. We also offer a free visual inspection (for property owners only) and a free insurance consultation. Our business is licensed, insured, bonded, and locally owned and operated.
Whatever you're going through, you can count on us to provide peace of mind and quality solutions. Call 911 Restoration of Denton County today.
Full-Service Flood Cleanup and Mold Remediation in Denton
A basic water removal contractor is not hard to find. Anyone can show up at your property with a wet vac and professional blowers. 911 Restoration offers something of much more value. We provide comprehensive solutions and a Fresh Start.
Our water damage restoration technicians are thinking about the future of your property from the very beginning. They work quickly to minimize damages, and they pack out and store your belongings for safekeeping during flood cleanup. Their goal is to protect you from costly losses and destruction.
We also consider the stress you're under when you're dealing with a pipe burst or storm damage. While we're rebuilding your property, you're rebuilding your life. Our water damage restoration workers look for opportunities to make your journey to recovery easier. This includes offering full-service flood cleanup so you don't have to hire anyone else to complete your water damage restoration job. Our staff does it all, including: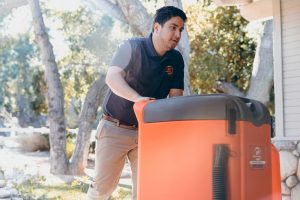 Boarding up
Leak detection
Storm repair
Roof repair
Carpet removal
Water extraction
Sewage cleanup
Sanitization and disinfection
Structural drying
And much more
We also include a mold inspection and mold remediation with our water damage restoration services. Mold spores can create a thriving colony with only 24 hours of exposure to a damp surface. In the case of an extensive pipe burst, even the swiftest flood cleanup response is unlikely to prevent mold development. Our certified mold removal experts prevent long-term damages by catching an infestation in its early stages.
Even if you have not had a pipe burst or any other water damage incident, we invite you to reach out for a mold inspection. It is always better to hire a trained mold remediation professional than to attempt cleanup yourself. In order to ensure successful and lasting mold removal, you need to address the cause of the problem. This means you need services such as structural dehumidifying and a thorough mold inspection. You can also count on our mold remediation experts to repair or replace any materials destroyed by fungus.
If you need water damage restoration or mold removal in Denton, Frisco, or the surrounding area, the choice is clear. Call 911 Restoration today.
Discover a Fresh Start After Fire and Smoke Damage
If you've had a property fire or puffback, you may feel like your property is lost to you forever. You've done so much work to make your home or business shine, and now it's contaminated by smoke and fire damage.
Don't worry. You can discover a Fresh Start after fire and smoke damage. You just have to call 911 Restoration of Denton County.
Our fire restoration experts provide comprehensive fire cleanup and smoke removal. They pack out and store your belongings to prevent additional loss during the smoke cleanup process. They use sodablasting to handle soot and smoke removal on large surfaces. And they even tackle smoke removal for items such as dishes and furniture. If their smoke cleanup efforts were not enough to eliminate foul odors, they provide additional services to ensure permanent odor removal.
Once smoke cleanup is complete, our fire restoration crew handles repairs. No damage is too great or too small for our fire cleanup staff. They do it all.
This may be your darkest hour, but a bright new beginning waits for you on the other side of fire restoration. Call 911 Restoration and breathe easy.
Servicing the cities of Argyle, Denton, Flower Mound, Frisco, Lake Dallas, Lewisville, Little Elm, Roanoke, The Colony, and surrounding areas.