Water Damage and Mold Removal in Roanoke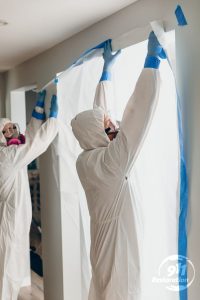 Our IICRC certified restoration technicians are here for you 24 hours, 7 days a week. No matter when you call or where you are in Denton County, we are at your door in 45 minutes or less.
The team at 911 Restoration adheres to this high standard of speed and availability because we take your disaster as seriously as you do. Whether you need water damage restoration, fire cleanup, or mold removal, you can count on us for a compassionate and urgent response.
Our goal is to give you a Fresh Start, leaving your home or business feeling bright, beautiful, and brand new. Every member of our flood cleanup and smoke removal staff is highly trained to handle all aspects of your restoration job. This includes sanitization, mold remediation, and even extensive structural repairs.
We also consider your peace of mind throughout the process. It's easy to feel overwhelmed when your greatest asset is at stake. Our team is eager to offer reassurance with professional transparency. We also offer free, no-obligation services to help answer all your questions before the restoration process even begins. Call us for a free visual inspection (for property owners only). Join us for a free insurance consultation so we can answer your questions about water damage restoration coverage. Our friendly staff even assists with inventory and loss itemization, files a claim for you, and bills your provider directly.
We treat you like a neighbor because that's exactly who you are to us. 911 Restoration of Denton County is locally owned and operated. We're also licensed, insured, bonded, and work with all insurance providers. We cover both residential and commercial mold removal, fire restoration, and flood cleanup in Roanoke and beyond.
From pipe bursts to tornado damage, make 911 Restoration your only choice for full-service property restoration.
Reliable Flood and Black Mold Removal in Roanoke
You have worked so hard for your property. Whether it's a home or a business, your property is more than a structure. It's the embodiment of your commitment and resilience. We see that. And we are as determined as you are to make sure an unexpected pipe burst or mold infestation doesn't undo all that effort.
At 911 Restoration, we offer more than basic flood cleanup and mold removal. We provide full-service solutions and a high standard of service to make sure you're left with a property that feels brand new.
Our water damage restoration technicians cover a wide range of flood cleanup and repair services, including: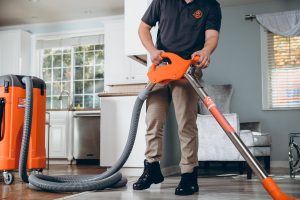 Sewage removal
Water extraction
Emergency boarding up
Leak detection
Storm repair
Roof repair
Structural drying
Structural texting
Extensive property repairs
Carpet removal
Sanitization
And more
We also offer mold remediation as a step in the water damage restoration process and as a standalone service.
It is extremely important that you get mold removal service from a certified mold specialist like 911 Restoration. Do not attempt mold removal yourself. Not only are DIY methods typically ineffective, they're also dangerous. You may be aware that black mold can lead to serious health problems. This is true. However, black mold is not the only fungus that can harm you. Most varieties of mold are either pathogenic or allergenic. Without prompt mold removal, you are at risk of respiratory problems, headaches, and other health-related challenges.
Our mold remediation specialists prevent these risks by conducting a full-scale mold inspection. They examine your property thoroughly for hidden growth. They use cautious mold removal methods to eliminate the colony without spreading dangerous particles—something you are likely to do if you attempt cleanup yourself. Finally, our mold remediation workers dehumidify the structure to minimize the risk of a recurrence.
When it comes to your hard-earned property, don't settle for anything less than expert water damage restoration and mold removal. Call 911 Restoration of Denton County for the service you deserve.
The Fire Restoration Contractor You Can Trust
Transparency is everything when it comes to selecting a fire restoration contractor. The process for smoke cleanup and fire damage repair can be complex, and you need technicians you can trust. We understand how much is at stake and our fire cleanup staff does everything they can to offer honest answers and earn your trust.
When you call 911 Restoration, we immediately offer a free fire damage assessment (for property owners only). During this assessment, a fire cleanup expert takes a look at your property and walks you through the options for recovery. They tell you how long fire cleanup should take and which services you require.
From there, we offer a free insurance consultation. Your fire restoration process could require a wide range of services. You might need soda blasting, smoke removal for your furniture and dishes, odor removal, roof repair, and more. A member of our smoke cleanup staff reviews your insurance policy to clarify which services your provider pays for. This gives you a clear idea of what to expect in terms of costs.
When you're ready, we provide every service you need for a Fresh Start. This includes smoke cleanup, detailed smoke removal, structural repairs, firehose flood cleanup, and more.
If you're still reeling from your property fire or puffback, reach out to us for immediate clarity and peace of mind. For the best fire restoration in Roanoke, call 911 Restoration today.
Servicing the cities of Argyle, Denton, Flower Mound, Frisco, Lake Dallas, Lewisville, Little Elm, Roanoke, The Colony, and surrounding areas.