Water Damage and Mold Removal in Lewisville
Pipe bursts, storm damage, and other property disasters often seem to come out of nowhere. You wake in the middle of the night to the stench of a sewage backup. You arrive at your business to discover your property flooded by a pipe burst. No matter when, where, or how disaster strikes, know this:
You can always turn to 911 Restoration of Denton County. Our 24-hour flood and fire cleanup crew will be at your door in 45 minutes or less, guaranteed. That's true even if you call in the dead of night or at 2:00 p.m. on Thanksgiving Day.
Our IICRC certified crew is staffed by genuine experts in water damage restoration, mold remediation, and fire restoration. These experts have completed regular, rigorous training to bring you the very best service Denton County has to offer. They do it all, including structural and surface repairs. Our goal is to make sure it only takes one call for you to make a full recovery.
As a locally owned and operated property, we view you as a neighbor, not another invoice. Our restoration technicians treat you with respect and compassion. They communicate throughout the water damage restoration process so you always know what they're doing and why. We also offer all the information you need to make the right decisions for your property… even before you agree to work with us. Our expert staff offers a free visual inspection (for property owners) and a free insurance consultation upfront.
We provide full-service restoration for both homes and business in Lewisville. 911 Restoration is licensed, insured, bonded, and backed by the resources and reputation of a nationwide company. Call us for fire restoration, flood cleanup, or mold removal in Lewisville, Frisco, Denton, and the surrounding area.
Reach out now, and we'll be there in 45 minutes or less.
24-Hour Emergency Water Damage Restoration in Lewisville
Speed is everything when it comes to a pipe burst, sewage backup, or any other form of water damage. Moisture on your property turns into rotting, buckling, or mold contamination in no time. Our goal at 911 Restoration is to minimize the risk of these damages so you don't have to deal with costly repairs.
Reach out to our flood cleanup crew at any hour and expect an urgent response. When our team arrives, they immediately survey the damage and strategize the best course of action. Our water damage restoration experts are fully trained and equipped to handle a wide range of flood cleanup needs, including: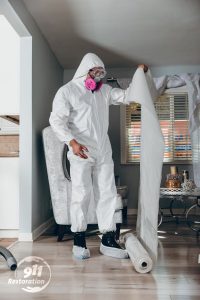 Leak detection
Emergency boarding up
Emergency roof repair
Emergency storm repair
Packing out services
Water removal
Sewage extraction
Sanitization and disinfection
Structural drying
Structural testing
Property repairs
And much more
You can also count on our water damage restoration workers to complete the job with a thorough mold inspection. Mold development is almost inevitable in the wake of a major water disaster. Our flood cleanup staff won't leave your property until they've ensured that your home or business is fungus free.
Mold removal is essential because fungus is a surprisingly destructive force. Without immediate mold remediation, your infestation eats away at the wood, wallpaper, and glue that hold your property together. It's also important to pursue mold removal for the sake of your own health. Fungus releases dangerous particles into the air you breathe. These particles can build up in your system and cause a range of health problems.
Our mold remediation professionals prevent these issues by examining your property for signs of an infestation. They handle mold removal using the safest and most effective techniques. Then, they dehumidify the structure to prevent future growth.
The sooner you receive both water damage restoration and mold remediation, the better off you'll be. Call now for fast, comprehensive service.
Compassionate Fire Restoration and Smoke Cleanup
If you need smoke removal or fire restoration in Lewisville, let 911 Restoration be your go-to contractor.
At 911 Restoration of Denton County, we don't just offer quality fire cleanup. We provide compassionate attention and instant peace of mind. Our friendly fire restoration technicians understand what you're going through. When your greatest asset is contaminated by fire and smoke damage, you may feel hopeless, overwhelmed, or uncertain. Our entire staff works diligently to help you find the answers and solutions you need for a Fresh Start after fire damage.
This begins with a free fire damage assessment. A member of our fire cleanup crew answers all your questions and helps you determine the best strategy for restoration. Then, we provide a free insurance consultation and assist you with your insurance paperwork.
Our fire and smoke cleanup services are comprehensive and cover everything you need for a full recovery. This includes:
Smoke cleanup through sodablasting and other cutting-edge methods
Smoke removal for furniture and dishes
Flood cleanup for fire hose damages
Permanent odor removal
Extensive structural and surface repairs
And much more
By the time our workers have completed fire cleanup and smoke removal, your property feels brand new.
Your property is not lost to you forever. We promise. Just call 911 Restoration of Denton County and get ready for a Fresh Start.
Servicing the cities of Argyle, Denton, Flower Mound, Frisco, Lake Dallas, Lewisville, Little Elm, Roanoke, The Colony, and surrounding areas.