Water Damage and Mold Removal in The Colony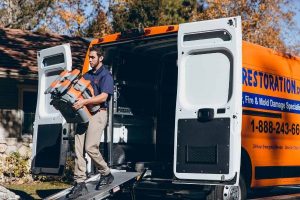 Between the beautiful parks and immediate access to Lewisville Lake, The Colony is a wonderful place to live and work. Nevertheless, this charming area does have its downsides. The threat of storms, hurricanes, and tornadoes are ever-present, making local homes and businesses vulnerable to water damage. Factor in incidents such as pipe bursts and sewage backups, and it's clear that The Colony needs a reliable flood cleanup contractor.
Fortunately, you have one. You have 911 Restoration of Denton County.
We provide full-service water damage restoration 24/7/365. Our flood cleanup experts even guarantee a 45-minute arrival time for your peace of mind.
Every member of our IICRC certified water damage restoration crew is highly trained in all aspects of property repair. They handle water removal, structural dehumidifying, disinfection, mold remediation, and even roof repair and drywall replacement. Our crew does whatever it takes to give you and your property a Fresh Start after a disaster.
We offer this same comprehensive approach in our mold removal, fire restoration, and smoke cleanup services. In fact, you can turn to us in any disaster, big or small.
At 911 Restoration, your peace of mind is our top priority. This is why we provide all the answers you need upfront. Request a free visual inspection (for property owners only). Join us for a free insurance consultation so you can get a clear idea of what to expect financially. We work with all insurance providers, and our water damage restoration crew works with you to keep costs low.
Our staff provides residential and commercial flood cleanup, fire damage restoration, and mold removal in The Colony and throughout Denton County. We are licensed, insured, and bonded.
You don't have to face a property disaster alone. Call the contractor who puts you first. Call 911 Restoration today.
Immediate Water Damage Restoration in The Colony
When a pipe bursts in the middle of the night, you can't afford to wait until morning. You also can't afford to sit there watching water seep into the structure of your property as you wait for a technician to arrive "sometime in the next four hours."
You need help with your pipe burst crisis immediately.
We understand. That's why we guarantee 24-hour availability and a 45-minute arrival time.
In fact, our water damage restoration crew isn't just fast. They're thorough. We cover every flood cleanup service imaginable, including: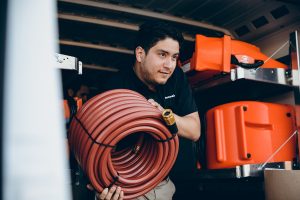 Packing out services
Leak detection
Boarding up
Storm repair
Roof repair
Water extraction
Sewage cleanup
Structural drying
Sanitization and disinfection
Structural testing
Extensive property repairs
Mold inspection
Mold removal
And much more.
Our flood cleanup technicians include mold removal in water damage restoration. However, you can also request mold remediation as a standalone service. If you suspect you have an infestation, it's important to seek help right away. Work with a certified mold decontamination specialist instead of attempting mold removal yourself.
Do-it-yourself methods such as bleach and carpet steaming actually do very little to eradicate fungus. Often, the infestation comes back worse than before. Call our mold removal crew at the first sign of growth. They provide an extensive mold inspection and conduct mold remediation using safe and effective methods. Our mold removal professionals even treat the structure where fungus grew to prevent a repeat infestation.
Not all water damage restoration and mold remediation services are equal. Call the company who thinks of everything and puts your needs first.
Reach out to 911 Restoration of Denton County.
Will My Property Ever Be the Same After Fire Damage?
When your home or business has been ravaged by fire damage or is covered in soot, a full recovery can seem impossible. Let us assure you, a Fresh Start is waiting for you on the other side of fire and smoke damage. All you have to do to get there is make one call to 911 Restoration of Denton County.
Our expert smoke cleanup technicians have a lot of experience providing fire restoration in The Colony and surrounding areas. They know what it takes to make your property new again, and they know how to offer peace of mind along the way. These experts take care of everything. They pack out and store your belongings to keep them safe during smoke cleanup. They use sodablasting to tackle smoke removal on large surfaces. Our fire cleanup workers even include your dishes and furniture in their smoke cleanup efforts. If any structure or surface needs to be repaired, replaced, or removed, our fire restoration techs handle that, too. Throughout the entire process, you can expect total transparency and immediate answers for all your fire damage questions.
It's normal to feel overwhelmed after a fire-related disaster. Just know that we're here to take every burden off your shoulders. Call 911 Restoration for expert fire cleanup and smoke removal.
Servicing the cities of Argyle, Denton, Flower Mound, Frisco, Lake Dallas, Lewisville, Little Elm, Roanoke, The Colony, and surrounding areas.