Disaster Restoration in Denton County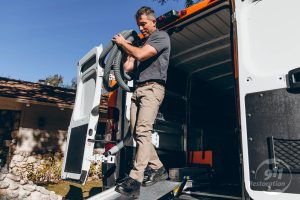 Floods, hurricanes, tornadoes, wildfires… sometimes a disaster can be so huge and complicated you don't know where to turn for help.
Let us assure you, you can always turn to 911 Restoration of Denton County. Our IICRC certified disaster restoration staff is prepared for any crisis. Our phone lines are open 24 hours a day, 365 days a year. We guarantee an arrival time of 45 minutes or less, even if you call in the dead of night.
Every member of our emergency restoration crew has completed rigorous training to meet the highest standard of service. At 911 Restoration, our goal is to turn your property disaster into an opportunity to begin again, stronger and brighter than ever. To fulfill this mission, we make sure every disaster restoration technician is equipped to handle the entire recovery process. They handle everything from the initial flood or fire cleanupto the final repairs.
Along the way, our emergency restoration experts treat you with respect and compassion. Few experiences in life are as devastating as major property damage. You may feel lost, overwhelmed, or hopeless. We seek to provide clarity and peace. Our disaster restoration staff accomplishes this through open communication and professional transparency. We offer a free visual inspection (for property owners only), so you know what to expect from the disaster restoration process. We also provide a free insurance consultation and assistance with claim filing.
911 Restoration is a nationwide company with a reputation for skill and compassion. Your Denton County branch is locally owned and operated, licensed, insured, and bonded. We provide both residential and commercial disaster restoration in Frisco, Denton, and throughout the county. We work with all insurance providers, including yours.
This may feel like your darkest hour, but a Fresh Start is waiting for you on the other side. Call 911 Restoration of Denton County, and we'll help you get there.
24-Hour Emergency Restoration for Your Peace of Mind
A property disaster requires an emergency response. That's what you can expect from 911 Restoration. Our team is here for you at every hour of the day or night, every single day of the year.
We guarantee an arrival time of 45 minutes or less, because we know you cannot sit around waiting for help. This is especially true in the case of water damage… and most property disasters include some form of water invasion. Even a fire can lead to a property flood when the fire department hoses down your home or business. The longer water remains on your property, the more likely you are to develop serious structural damages and mold.
Our 911 water damage experts staff moves swiftly to address your water-related disaster. They arrive promptly and immediately pack out and store any unharmed belongings. There are many moving parts when it comes to emergency water damage restoration. Our staff wants to make sure none of your precious belongings stand in harm's way during flood cleanup.
Once these items are properly stored away, our water damage restoration experts do whatever is needed to stop the flow of water and eliminate all moisture. This could include: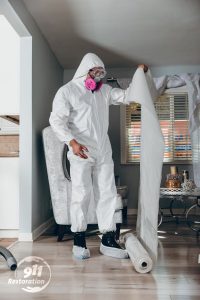 Emergency boarding up
Storm repair
Roof repair
Leak detection
Sewage cleanup
Water removal
Structural drying
And much more
As is the case with all our services, our water damage restoration process covers everything you need for a Fresh Start. We go beyond basic water removal to ensure your property is truly clean, strong, and safe.
Our emergency restoration workers conduct water damage testing to make sure your structure is still sound. If you require any repairs, they handle it themselves so you don't have to bother finding another contractor. The disaster restoration crew also handles mold inspection and mold remediation.
From fast responses to forward-thinking service, 911 Restoration is the company to call for emergency restoration in Frisco, Lewisville, and beyond. Call now for service you can count on.
The Clear Choice for Disaster Restoration in Frisco and Beyond
We provide fast, thorough, skillful disaster restoration service.
But it doesn't end there.
Our staff of compassionate restoration experts work just as hard to help you find peace of mind in a challenging process. We empower you with clear information from day one, so you can make the best decisions for yourself and for your property.
Take advantage of our free visual inspection (for property owners only). This consultation presents an opportunity to understand the extent of your damage. One of our emergency restoration experts explains exactly what it will take to recover from your disaster. They provide an estimated timeline, clarify the costs, and help you consider your options.
Once you decide on the best path forward, we invite you to sit down for an insurance consultation. We know getting answers from your insurance provider can be challenging. So, we take that item off your to-do list. An expert on staff examines your policy, reaches out to your insurance company, and explains your coverage in clear terms. You learn how much support to expect from your provider and which costs fall to you. Then, our team assists with inventory and loss itemization. They file your claim for you and bill your provider directly so you don't have to be the go-between.
Disaster restoration does not have to be as stressful as you might imagine. Call 911 Water Restoration for compassionate service and genuine peace of mind.
Serving the communities of Argyle, Denton, Flower Mound, Frisco, Lake Dallas,Lewisville, Little, Elm, Roanoke, The Colony and surrounding areas.