Water Damage Restoration in Denton County
Weather Alert: If you are experiencing weather-related damage from the storm, call us today for emergency assistance! 
911 Restoration of Denton County – Water Damage Restoration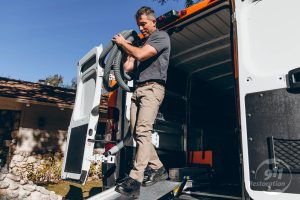 From all water damage restoration, to fire to mold or sewage restoration services let 911 Restoration of Denton County be your go-to property restoration contractor. We provide 24-hour emergency service, 365 days a year. Our staff is IICRC certified, highly trained, and prepared to be at your door in 45 minutes or less… guaranteed.
At 911 Restoration, we work hard to ensure you can enjoy a Fresh Start after any disaster. We provide full service restoration, from the initial cleanup to major structural repairs and property sanitization. One call to 911 Restoration is all it takes to make your home or business new again. You never have to deal with another contractor.
As a locally owned and operated business, we value you as a neighbor. Expect compassion, respect, and our undivided attention. We offer a free visual inspection (for property owners only) and a free insurance inspection. A property disaster is always a stressful situation. Our dedicated technicians do everything possible to put your mind at ease and answer your questions upfront.
911 Restoration is backed by the resources of a nationwide company. We are licensed, insured, and bonded for your peace of mind. Our expert restoration technicians serve both residential and commercial properties in Frisco, Denton, Lewisville, and throughout the county.
No matter what type of crisis you're dealing with, you can find a full recovery through 911 Restoration of Denton County. Call us for everything from fire restoration to water restoration Lewisville.
At 911 Restoration of Denton County, we offer a Fresh Start with our comprehensive selection of property damage restoration services, including but not limited to:
Whether you're a Denton County homeowner or business owner, 911 Restoration of Denton County is your Fresh Start! We'll communicate with you throughout the entire process, help answer questions related to insurance, and restore your property to its pre-damaged condition. One of our IICRC-certified teams is dispatched within 45 minutes of your call! Contact us today, and one of our friendly representatives will assist you in finding the nearest Denton County location.
Service area map
Water Damage Restoration
If you have water damage, you need help right away.
It doesn't matter if you're dealing with a pipe burst, a ceiling leak, or tornado damage. The longer water stands on your property, the worse your damage will be. That's why our flood cleanup technicians move at top speeds. They arrive in 45 minutes or less and work quickly to complete water removal.
We provide a wide range of emergency water damage restoration services. Turn to us for everything from leak detection and sewage extraction to emergency boarding up and roof repair. Our technicians take care of all your water damage restoration needs, including mold inspection, mold removal, and structural repairs. They don't rest until your home or business is brand new again.
If you have water damage in Fresno, Flower Mound, or anywhere else in Denton County, the choice is clear. Call 911 water damage experts for a fast response and immediate peace of mind.
Sherry M.
"I would give them 6 stars if I could. I had to deal with a flood in my business, an absolute nightmare for every business owner. 911 Restoration came right away, and they are so professional and efficient. Even after everything was done they followed up and made sure everything was back to normal. A+ customer service. Thank you!"
Sanitization Services and Disinfection Solutions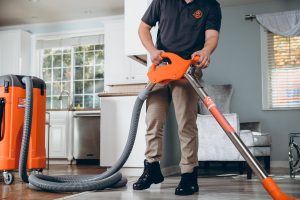 It was hard enough to maintain a pristine home or business before the pandemic. Now property owners deal with constantly shifting standards and new information regarding the best way to protect family and customers.
911 Restoration can help. Our sanitization experts are trained in all the latest CDC and EPA protocols. They deep clean private residences, office spaces, retail facilities, and much more. No matter what type of property you own, you can count on our disinfection crew for quality service and peace of mind. Our IICRC certified sanitization staff observes all safety precautions and communicates clearly.
Even in these uncertain times, you can count on 911 Restoration of Denton County for honesty and support. Call now for residential and commercial sanitization and disinfection.
Mold Removal
Don't wait on mold removal. If your property shows signs of an infestation, seek out a professional mold inspection right away. As fungus grows, it eats away at the structure of your property. Mold also releases harmful particles into the air you breathe, potentially causing long-term health problems. The sooner you seek out professional mold remediation, the less devastating the damages of your infestation will be.
Our certified mold specialists are always here for you. These experts have been highly trained in the safest methods of mold removal. They inspect your home or business closely to ensure all growth is discovered and eliminated. After mold removal, they treat the site of the growth to prevent a repeat infestation. Our mold decontamination crew even repairs or replaces permanently contaminated surfaces.
Eradicating fungus is easier than you think. Just call 911 Mold Restoration for expert mold removal in Frisco, Lewisville, Denton, and beyond.
Sewage Backup Cleanup
A sewage backup may be miserable, but it's not the end of the world. If you have a sewer flood on your property, stay away from the area and call 911 Restoration of Denton County. We'll take it from there.
Our sewage cleanup crew is at your beck and call 24/7/365. Our technicians move fast, arriving at your home or business in 45 minutes or less. They swiftly extract the sewage and sanitize the area thoroughly. Toilet water brings dangerous microorganisms onto your property, including viruses and parasites. This is why it's important to keep your distance until our trained professionals have had a chance to disinfect the area.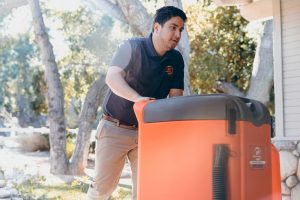 To ensure you're left with a strong, beautiful home or business, our crew dries the space thoroughly. They repair any damaged surfaces, inspect for mold, and conduct mold removal as needed. We think of everything so you don't have to.
Call us today for the service you deserve.
Fire and Smoke Damage Restoration
There is no problem too big or too small for our fire damage restorationcrew. If you merely need someone to handle odor removal for a hotel room tainted by cigarette smoke, we have you covered. If you need extensive fire cleanup and repairs for a home ravaged by fire, we do that, too.
Our fire damage restoration experts are experienced, highly skilled, and deeply compassionate. They understand how much is at stake when it comes to your home or business property. Count on them for clear communication and a high standard of service.
This team does everything it takes to make your property shine again. This includes ash, soot, and smoke removal, odor removal, structural repairs, and soda blasting. They clean your furniture and dishes. Our fire damage restoration workers even handle water damage restoration and mold removal after a firehose flood.
Believe it or not, you can discover a Fresh Start after a puff back or property fire. Just call 911 Restoration Utah for comprehensive fire damage restoration in Fresco and beyond.
Disaster Restoration
If you're not sure what category of restoration you need, call 911 Restoration of Denton County. Whatever you're dealing with, we can help.
Our IICRC certified disaster restoration crew handles everything from hurricane damage to fire-related destruction. Additionally, these experts come trained and equipped to handle water cleanup, smoke removal, structural repairs, sanitization, and much more. No matter what it takes to make your home or business new again, you can count on us.
911 Restoration guarantees true compassion in addition to a high standard of service. Your greatest asset is at stake, and our technicians understand how much your property means to you. They treat you and your home or business with care. We also put your mind at ease with a free insurance consultation, a free visual inspection, and 24/7 availability.
Brighter days lie ahead. Call certified disaster restoration for a Fresh Start.
Commercial Water Damage Restoration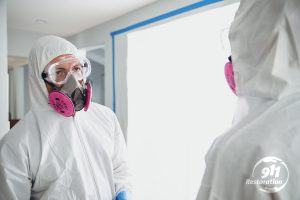 When your business is at stake, you can't settle for just any restoration contractor. For that reason, you need a specialist who understands how to repair and restore your unique property. You need commercial restoration technicians who understand that this isn't just a building; it's your livelihood.
Of course, you need 911 Restoration of Denton County.
Our dedicated commercial water damage restoration crew is here for you in any disaster, from flood to flames. We guarantee an arrival time of 45 minutes or less, so you're never left waiting. In fact, that guarantee is good day and night, every single day of the year. We work with all types of insurance and even file your claim for you.
If you need commercial restoration in Denton County, turn to the contractor who truly understands your needs. Call commercial emergency restoration services in Houston today.
Serving the communities of Argyle, Denton, Flower Mound, Frisco, Lake Dallas,Lewisville, Little, Elm, Roanoke, The Colony and surrounding areas.