Water Damage and Mold Removal in Frisco
When disaster strikes in Frisco, turn to 911 Restoration of Denton County. Our IICRC certified restoration crew is here 24/7 to serve all your restoration needs. We guarantee an arrival time of 45 minutes or less, so you're never left wondering how soon help will be at your door.
As a locally owned and operated company, we value our neighbors in Frisco. From exciting nightlife to well-maintained local parks, this community has so much to offer. Our mission is to preserve the beauty of Denton County by preserving local homes and business. This is why we offer a wide range of services to cover any property disaster. Turn to us for: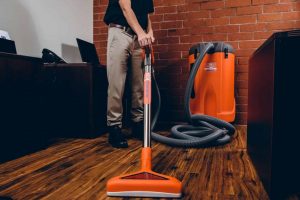 Sewage cleanup
Mold inspection
Mold remediation
Smoke cleanup
Odor and smoke removal
Disaster restoration
Commercial restoration
And much more
We train every member of our team to provide comprehensive solutions in any crisis. A property disaster is overwhelming enough without having to juggle contractors. Our fire and flood cleanup experts cover everything from water and smoke removal to major structural repairs. They do it all. You only have to make one call to make a full recovery from fire, flood, or fungus.
Our team works hard to put your mind at ease with clear communication and immediate answers. We provide a free visual inspection (for property owners only). This consultation gives you the big picture, including which services you require, what expenses you can expect, and how long it takes. We also offer a free insurance consultation so you can prepare financially. Our staff works with you to keep costs low. They even handle your insurance claim so you have one less thing to worry about.
911 Restoration is licensed, insured, bonded, and locally owned and operated. We provide fire cleanup, water damage restoration, and mold removal in Frisco, Denton, Lewisville, and the surrounding area. Our expert technicians service both homes and businesses.
Call us today for fast, compassionate service.
Residential and Commercial Water Extraction
Property owners in Frisco are often at the mercy of our local climate. Heavy storms can cause destruction, property floods, and sewage backups. Hot, muggy summers encourage mold development. Plus, there is the ever-present risk of run-of-the-mill incidents like pipe bursts and washer machine floods.
No matter how water gets into your home or business, you have an emergency on your hands. Our water damage restoration experts understand the urgency of your situation. They're at your door in 45 minutes or less, ready to begin water removal right away.
The process of flood cleanup may vary depending on the needs of your situation. If it appears that water damage restoration will be an extensive and complex process, our workers may pack out and store your belongings. This ensures those items remain safe during flood cleanup.
The crew may also need to address urgent tasks such as boarding up, leak detection, or roof repair. They extract all water from your property as quickly as possible. Then, the water damage restoration staff brings in professional fans to dry the area thoroughly.
In the event of an extensive flood or pipe burst, you may incur some permanent damage. Our flood cleanup professionals can take care of any repairs you require.
We also ensure a full recovery from your pipe burst by inspecting the property for mold development. Our flood cleanup experts are trained and certified in mold removal. They recognize all the signs of an early infestation and use cutting-edge procedures to handle mold remediation safely.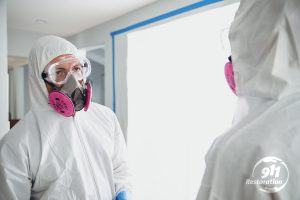 Even if you have not had a pipe burst or any other water damage incident, call us at the first sign of an infestation. Without prompt mold removal, fungus spreads throughout your property, eating away at the structure. An unaddressed mold problem can also be a hazard to your health.
Our mold removal experts work hard to ensure every patch of growth is discovered and destroyed. They also include structural dehumidifying with their mold remediation services. Through this process, they dry the structure of your property to discourage repeat growth. If our mold removal workers discover any surface damages resulting from your infestation, they replace the contaminated material themselves.
If you need mold remediation or water damage restoration in Frisco or the surrounding area, call the contractor who thinks of everything. Reach out to 911 Restoration of Denton County.
Make a Full Recovery from Fire Damage in Frisco
If you have fire damage from a property fire or smoke damage from a puffback, don't panic. Just call 9111 Restoration of Denton County.
Our fire restoration experts are here to offer a Fresh Start after fire and smoke damage. They provide truly comprehensive service, covering everything from smoke cleanup to roof repair. Turn to us for:
Soot, ash, and smoke cleanup with sodablasting
Smoke removal for dishes and furniture
Permanent odor removal
Extensive structural repairs
Water damage restoration following firehose flooding
And much more
In addition to offering full-service fire cleanup and smoke removal, our staff provides answers. You can reach our fire restoration experts at any hour of the day or night, and they'll be happy to address all your fire cleanup questions. You can also turn to us for a free fire damage assessment (for property owners only). Take advantage of our free insurance consultation, and let us take on the responsibility of filing a fire restoration insurance claim on your behalf.
Fire and smoke damage can be devastating. The good news is that the right contractor can turn this disaster into a Fresh Start.
Call 911 Restoration and look forward to a new beginning.
Servicing the cities of Argyle, Denton, Flower Mound, Frisco, Lake Dallas, Lewisville, Little Elm, Roanoke, The Colony, and surrounding areas.