Water Damage and Mold Removal in Flower Mound
If you need water damage restoration, mold removal, or fire cleanup in Flower Mound, you need 911 Restoration of Denton County.
We provide the most comprehensive and compassionate property restoration services in the area. Our emergency restoration staff guarantees a 45-minute arrival time at any hour of the day or night, every single day of the year. These experts are highly trained in all aspects of property restoration, including: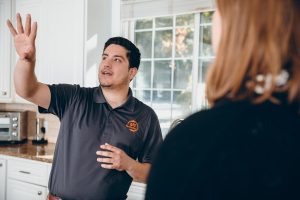 Water removal
Sewage cleanup
Full-service water damage restoration 
Structural drying
Odor and smoke removal
Mold inspection
Sanitization and disinfection
Property repairs
And much more
Our IICRC certified team does whatever it takes to give you a Fresh Start. You don't have to settle for basic water or smoke removal, and you don't have to find additional contractors to make your property new again.
911 Restoration services both residential and commercial properties in Flower Mound and throughout Denton County. We are a locally owned and operated business that cares for our neighbors in need. We emphasize compassion, undivided attention, and clear communication. When you put your trust in us, we take that trust seriously.
If you feel lost or overwhelmed by your property disaster, know that we're here to provide all the answers you need. You can turn to us for a free visual inspection (for property owners only) and a free insurance consultation. Both services help you understand exactly what to expect during the restoration process.
911 Restoration of Denton County is licensed, bonded, and insured. We take all types of insurance, including yours.
Whether you're recovering from a pipe burst or reeling after a property fire, let us help. Call now for expert service and an immediate response.
The Company to Call for Flood Cleanup and Mold Removal in Flower Mound
Water removal and structural drying are important elements of the flood cleanup process. But in order to make a full recovery from a pipe burst or any other water disaster, you need a full-service contractor. No other company in Denton County offers what 911 Restoration offers.
First of all, we have a trained and certified water damage restoration crew ready to be at your door at a moment's notice. These technicians are true experts who bring more to flood cleanup than just wet vacs. Our staff provides emergency boarding up, roof repair, storm repair, mold inspection, mold remediation, and much more.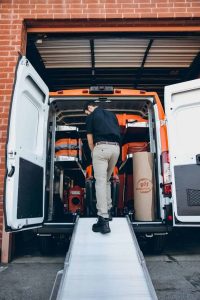 Second, we work with your best interests in mind. Whether you need water damage restoration, mold removal, or both, you need a contractor who's focused on minimizing long-term damage. Our water damage restoration crew works fast to prevent rotting or weakness in your structure after a pipe burst. They also pack out and store your at-risk belongings for safekeeping during flood cleanup. When it comes to mold removal, our specialists inspect your property thoroughly to ensure they eliminate all growth. They also dehumidify the structure where mold grew to prevent a repeat infestation.
Third, our flood cleanup and mold remediation professionals are dedicated to providing a Fresh Start. This means repairing everything that is damaged, weakened, or stained—whether by mold or by water.
Finally, you can always count on our crew for compassion and communication. We know that when you call us for water damage restoration, you're panicked over the potential damages and costs of this disaster. When you reach out for mold remediation, you are likely worried about the potential health risks of having a mold infestation in your home or business. Whatever you're going through, our crew is here to provide answers, reassurance, and meaningful solutions.
You deserve quality service. For the best mold removal and water damage restoration in Flower Mound, call 911 Restoration today.
Expert Fire Restoration and Puffback Cleanup
Fire and smoke damage is not the end of the world, even though it may feel like it right now.
At 911 Restoration, we've perfected our fire restoration and smoke cleanup services to ensure your recovery process is quick and stress-free. Our team has thought of everything, including cost-free, zero-obligation consultation services. We know that when it comes to fire damage or smoke damage, much of the property owner's anxiety simply comes from uncertainty. If you don't know what lies ahead, you can't strategize.
Consider 911 Restoration of Denton County your fire information center. Our fire cleanup experts are available 24/7/365 to answer all your questions. We provide a free fire damage assessment (for property owners only) so you can get a handle on your own unique situation. You can even request a free insurance consultation. A fire restoration staff member explains your coverage, helps you set financial expectations, and takes care of all the paperwork for your claim.
As for the actual fire and smoke cleanup service, you can count on our workers to cover everything you need for a Fresh Start. They use sodablasting for soot and smoke removal on large services. They include odor removal procedures in the smoke cleanup process. Our fire cleanup crew personally takes care of all major structural repairs and removes water left by the firehose. You can even expect our smoke cleanup technicians to take care of smoke removal for your furniture and dishes.
In other words, you're not alone. Call 911 Restoration of Denton County for neighborly support and a Fresh Start.
Servicing the cities of Argyle, Denton, Flower Mound, Frisco, Lake Dallas, Lewisville, Little Elm, Roanoke, The Colony, and surrounding areas.