Sanitization & Cleaning Services in Denton County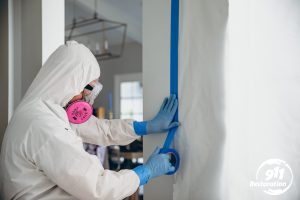 As Texas continues to battle the coronavirus pandemic, property owners are under constant pressure to maintain sanitized spaces. To make matters more confusing, our understanding of coronavirus spread changes from day to day. Home and business owners alike deal with shifting standards and guidelines. You may also find yourself struggling to separate coronavirus facts from dangerous myths.
If you feel overwhelmed, we can help.
First, remember that this disaster is only temporary. We are all in this together, and we will all get through it together. However, we can only do that if we take the threat of coronavirus seriously and stay informed. When you hear new information regarding the virus, check that information against recent updates from reputable organizations like the Centers for Disease Control.
Be mindful of family, customers, and employees who may be at increased risk for severe complications from coronavirus. For the elderly and those with pre-existing medical conditions, a coronavirus infection could be devastating or even fatal. Be aware of this danger, and be conscious of the fact that you cannot be certain whether or not someone is a member of a vulnerable population.
Please note that it is possible to carry and spread the virus even if you do not show symptoms. Protect yourself and others by wearing a face mask in public spaces. Maintain a distance of at least six feet, avoid crowded areas, and conduct business from home whenever possible. Wash your hands frequently and for twenty seconds at a time. Sanitize your home and workspaces frequently, paying close attention to high-touch areas like doorknobs and remote controls.
The burden of disinfection can be especially heavy for commercial property owners. Whether you own an office space or a retail facility, you oversee a property that is vulnerable to virus exposure. You have no way of knowing for sure whether the individuals who enter your business carry coronavirus. They may not know themselves. For this reason, it is important to disinfect frequently and consistently. A clear sanitization strategy puts your employees' minds at ease and reassures your customers.
If you are feeling overwhelmed by the responsibility of property sanitization, 911 water damage experts are here for you. We provide comprehensive property sanitization and disinfection. Our IICRC certified staff follows CDC and EPA protocols for your peace of mind. They provide both residential and commercial emergency restoration services in Houston, Frisco, Denton, and throughout the county. Whether you need disinfection for a private home or deep cleaning for a vast commercial facility, you can count on our crew. Our sanitization technicians communicate clearly, gladly answer all your questions, and work hard to help you find peace in this challenging time.
This pandemic won't last forever. In the meantime, 911 Restoration is here to offer answers, solutions, and support. Reach out any time.