Mold Removal in Denton County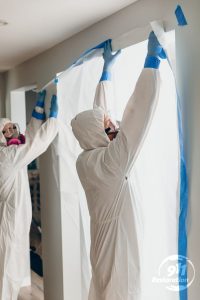 There are many ways mold could announce its presence in your home or business. You might notice a mildew-like odor coming from behind your walls. You could experience unexplained health issues such as dizziness, frequent headaches, or allergies. Or your infestation might be even simpler than that. Fungus could emerge in plain sight, spreading across your walls or ceiling.
Whatever reason you have to suspect the presence of mold, seek help right away. Call the certified mold removal experts at 911 Restoration of Denton County. The longer you delay mold remediation, the more time fungus has to destroy the structure of your property and contaminate the air you breathe.
Our IICRC certified mold removal staff conducts a thorough mold inspection. They use the safest and most advanced mold removal techniques to ensure your safety. Our crew even goes above and beyond to prevent future growth and repair contaminated structures.
As with all our services, 911 Restoration conducts mold removal with an emphasis on providing a Fresh Start for our customers. We don't just clean mold. We look to the future, leaving you with a like-new property fortified against future infestations.
911 Restoration is licensed, insured, bonded, and locally owned and operated. We proudly offer both residential and commercial emergency restoration services in Houston, Frisco, Denton, Lewisville, and throughout the county. All our technicians are highly trained to meet the highest standard of service in mold inspection, mold remediation, and property repairs.
If you believe you have a mold problem, call the specialists who put your well-being first. Call 911 Restoration of Denton County.
Certified Mold Remediation in Frisco
When your home or business has been attacked by mold, it is important that you reach out to a contractor who is certified in mold removal.
Many property owners make the mistake of assuming mold is an easy problem to fix. They turn to a contractor who doesn't really know what they're doing. Or they attempt mold removal themselves, using "home remedies" they read about online.
These may seem like cost-cutting measures for the time being. However, such decisions cost you more in the long-run. Only certified professionals like the mold experts at 911 Restoration can address the cause of your mold problem as well as the mold itself.
Our mold remediation specialists begin each job with a thorough mold inspection. Fungus reproduces through airborne spores. These microscopic particles travel through air ducts and on clothing to reach hidden areas of your home or business. If they find a damp surface on which to land, they can create a new mold colony. When there is growth in one area of your property, there is likely another colony hidden out of sight. Our comprehensive mold inspection ensures no growth is left behind to thrive and destroy your structure.
After the mold inspection, our crew uses professional tools and cautious procedures to complete mold removal. The process of mold cleanup may seem simple and harmless, but it is not. When you scrub at a growth, you force it to release dangerous mycotoxins or other particles that pose a threat to your health. This is one reason we discourage do-it-yourself mold decontamination. Our certified mold specialists know how to handle mold removal safely.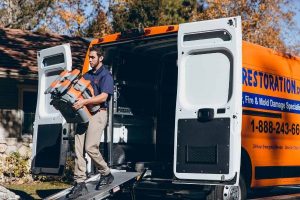 Mold remediation concludes with structural dehumidifying. Fungus only grows on damp surfaces. If you have recently had water damage restoration, you can probably understand why you are dealing with a mold infestation now. Either way, we need to draw all moisture out of the structure to reduce the risk of future growth.
Finally, if any of your structures are left stained or otherwise damaged, our workers take care of it. They don't leave until your home or business feels brand new.
If you hope to make a full recovery from mold, you need full-service mold remediation. Call today for a mold inspection in Frisco, Flower Mound, or the surrounding area.
Removing Mold Due to Water Damage
Our mold decontamination experts are more than fungus specialists. They are also certified water damage restoration professionals.
Mold remediation and water damage restoration often go hand-in-hand. Whether you've had a pipe burst or a minor wall leak, any damp surface is a breeding ground for mold spores. In fact, mold spores only need 24 hours of access to a damp surface to create a mold colony. Sometimes even the swiftest water damage restoration efforts aren't fast enough to prevent a fungal invasion.
This is why our leak repair and flood cleanup crew completes every water damage restoration job with a mold inspection. They examine your property thoroughly—especially those areas most likely to absorb and store moisture. Our specialists recognize all the telltale signs of an early mold infestation. They do all they can to get out in front of the problem, eliminating fungus before it becomes destructive.
If you recently received water damage restoration from a contractor who did not check for mold, call 911 Restoration. Our crew offers a thorough mold inspection so you can move forward from your water damage disaster with peace of mind.
Whatever caused your infestation, 911 Water Restoration has the solution. Call today.
Serving the communities of Argyle, Denton, Flower Mound, Frisco, Lake Dallas,Lewisville, Little, Elm, Roanoke, The Colony and surrounding areas.