Why Does the Risk of Fire Damage Increase During the Winter?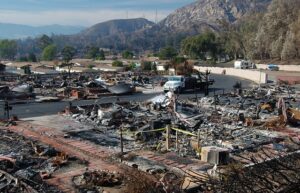 The winter months are known for the holiday season and keeping warm around the fireplace. However, they're also known for an increased risk of fire damage because candles, heating, and holiday decorations all contribute to the risk of fire in the colder months.
Since heat consumption is higher during this time of year and fires are more likely to break out, it's especially important to practice fire safety and take precautions. In this article, we will delve into why the risk of fire damage is increased during the winter and what steps you can take to keep yourself and your family safe.
Cooking
According to the NFPA, Thanksgiving is the peak day for home cooking fires. This is closely followed by the day before Thanksgiving, Christmas, and Christmas Eve. This can be dangerous when combined when home decoration, with statistics showing that cooking equipment was involved in 20% of decoration fires. Be careful not to leave décor too close to your stove or other cooking equipment to avoid these winter fires.
Heating
Heating devices like space heaters are an affordable and convenient way to stay warm during the winter months. However, if they're not used carefully with proper precautions, they can be deadly and result in devastating fire damage. Heating is the second-leading cause of home fires and the third-leading cause of home fire deaths in the United States. Since the colder months are when heating is used, it's no wonder that these make up the majority of winter fire damage cases, with December, January, and February being the most widely known for heating-related fires.
Space heaters are notorious for this and are involved in 44% of fires and most of the injuries and deaths caused by heating-related fires. Because of this, users must take the proper safety precautions when using space heaters in the winter. In addition to keeping flammable objects a minimum of three feet away from heat sources like space heaters, these devices should also be kept on a level surface and away from entry points to avoid tripping hazards.
Other heating devices that can cause winter fires include radiators, fireplaces, and portable generators. In addition to keeping flammable items far away from these heat sources, users should ensure that they're not plugging multiple appliances into an electrical outlet at one time. Another important precaution to take is having your chimney and fireplace cleaned and inspected annually to prevent fire damage.
Candles
Candles are often used over the winter period, especially around the holiday season. However, this can be dangerous and cause fire damage during winter. According to the National Fire Protection Association (NFPA), candle fires peak in December and are most commonly seen in December and January. In fact, Christmas day sees three times as many candle fires as the daily average.
Because 60% of candle fires start because of proximity to flammable materials like bedding, decorations, curtains, mattresses, and furniture, it's essential to ensure that your candles are kept at a safe distance from such items. Additionally, users should keep a close eye on candles when they're being used, and never leave them lit when they're leaving the room or going to sleep.
Holiday Decorations
Christmas trees are a huge part of décor fires, with the U.S. fire department responding to 160 Christmas tree fires every year between 2014 and 2018. In addition to two deaths, Christmas tree fires resulted in 14 injuries and $10 million in proper damage every year. To prevent fire damage, it's essential to keep Christmas trees away from heat sources since more than one-fifth of Christmas tree fires resulted from being close to heat sources like candles.
Since dried Christmas trees burn faster than newspaper and are a Class A combustible, it's also important to water Christmas trees to ensure that the needles don't dry out. Also, keep them at least three feet away from heat sources like candles, fireplaces, radiators, and more.
Taking caution also applies to outdoor decorations. For example, when using outdoor lights and other décor, it's important to ensure that the extension cords being used are labeled for outdoor use. Additionally, all outdoor décor should be secured to structures so they can resist harsh winds and should be plugged into ground fault circuit interrupter (GFCIs) outlets or surge protectors to decrease the risk of fire damage.
911 Restoration of Denton County
Unfortunately, even if you follow all the proper safety precautions and take every measure to ensure you're careful, disaster can strike. Accidents can lead to devasting fire damage and displacement when your home is being restored. If this happens, you can rely on 911 Restoration of Denton County to come to your aid.
Fire and smoke damage can leave your property destroyed, but 911 Restoration's fire damage restoration services can help you restore your home to its former glory. Our technicians are licensed, bonded, and insured and are IICRC-certified. We work on both residential and commercial properties and can reach any property in Denton County within 45 minutes of your call.
If you need our help with fire damage restoration, don't hesitate to call us at (940) 435-7905 or via this contact form – we're available 24/7 for emergency calls.