Is it Better to Replace or Repair Water Damaged Floor?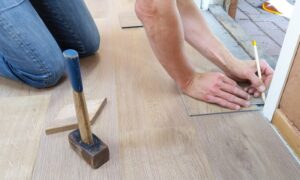 Flooring is an essential element of the house. Not only does it makes your house aesthetically appealing, but it is also crucial to keep your family safe as it provides a sturdy surface for people to move around. However, just like any other thing in your house, flooring also gets damaged. Floor flooding, rainy season, leaky pipes, and the presence of excess moisture are among the many reasons that can damage your home's flooring. This is when it is best to hire us—911 Restoration of Denton County.
We are a team of trusted home restoration specialists. Allow our experts to inspect your flooring and determine how to restore your home to its livable state. Contact us today.
Ways to Identify Your Floor is Water Damaged
After a pipe burst or urban flooding, many property owners are focused on the structural integrity of the home and furniture that they overlook the water-damaged flooring. And this is where the problem lies because when it comes to home restoration after water damage, everything must be the center of focus. And that's what our team does. We address all issues so that you don't have to incur a costly expense later.
It is crucial to understand that after flooding, your hardwood floor is most susceptible to water damage. The longer your flooring is wet, the deeper the water may seep into it. Abnormalities are clear signs of water damage such as:
Buckling—It happens when the flooring detaches from the subflooring under it. The floor separates at peel and seams upward.
Warping—It includes peeling, bubbling, and cracking in the flooring are indicative of floor damage.
Crowning—When the hardwood floor loses moisture, it shrinks from the side underneath. This moisture loss leaves the rounded planks with a high point in the low and middle on the edges. That's when you know you have a problem. But don't wait for it to happen. Allow our experts to inspect your flooring and act fast before the damage is done.
Water Damaged Floor—Repair or Replace?
There is no clear choice when it comes to repairing or replacing the water-damaged floor. When you hire us, we will perform all the necessary steps to minimize the damage to your floor. Our goal is to restore your home, including flooring, back to its pre-damaged state. From repairs to restoration and replacements, we take care of them all. However, we'd never recommend a floor replacement unless necessary because we don't want to burden you with expensive replacement bills.
Some factors that we focus on when assessing a water damaged floor for a repair or replacement include the following:
The extent of Water Damage
First things first, the extent of damage is a crucial factor in determining a repair or replacement. We assess your floor for:
Minor and cosmetic damage
Major and destructive damage
This helps us determine whether the floor is still functional or deteriorated and unsafe. Moreover, our team also checks it for mold growth. If the water was not removed from your home promptly and dried thoroughly within 24 hours, this is a possibility. Mold growth also puts your home's flooring at serious risk as it can complicate the flooring repairs and require a replacement.
Type of Water
Another factor to consider is the type of water that damages the flooring of your house. For example, rainwater is clean. Hence, if rain or water from leaky pipes damages your floor, it will be easier to repair the floor. Likewise, water from washing machines and dishwashers is gray water. It may contain contaminants; therefore, we use proper safety equipment and measures to clean the floor and restore it.
However, if your floor gets damaged from black water like sewage water, you might need a floor replacement job. This is because black water contains waste and bacteria. These are serious contaminants that can cause health issues and major damage to your floor.
Subfloor Flooding
Replacement is also advisable for large-scale water-damaged areas such as subfloor flooding. This is the concrete or wooden support system underneath the flooring. When the water damages the subfloor, the floor becomes swollen and lifts. Besides this, it feels squishy and soft when you step on it. It also becomes susceptible to mold growth. So, the best choice is to replace rather than to repair.
Replacement will provide you with a fresh start. Look at it as an opportunity to install waterproof flooring and keep your investment safe for years to come.
On the other hand, repairs are recommended for minor damages like isolated damages, minor issues, and spot fixes. Contact our team today. Our IICRC certified experts will arrive at your premises within 45 minutes, fully equipped. We will provide you with the best action plan for home restoration after water damage. Give us a chance to help you. Our home restoration specialists will restore your property to its pre-damaged state in the fastest possible time.