13 Things to do in a Fire Emergency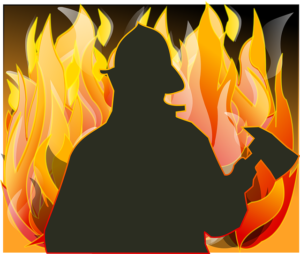 Fire can be disastrous and traumatizing. In a matter of two minutes, it can spiral out of control and quickly become life-threatening.
According to FEMA, fire death rates have been on an upward trend and there is a real risk of dying from them.
While prevention should always be a priority, you may find yourself in a fire emergency. In such a scary situation, it is important to stay calm and think about safety first.
We've rounded up 13 things you should do during a fire emergency.
Find a Safe Place
First things first. Find a way out of the building and look for exit signs. Some buildings have an evacuation diagram that may be helpful in determining a way out. Try to look for the nearest exit or stairwell. But if the exits are blocked by fire, look for another exit.
Try to Put Out the Fire With a Fire Extinguisher… If You can
You can always try to reach for a fire extinguisher if you think you can put the fire out. But if your efforts with the fire extinguisher prove to be futile, leave the area immediately.
Fire preventive tip: If you don't have fire extinguishers in your home or office, prioritize them as early as you can.
Protect What is Important
Look for your family, pets, and irreplaceable belongings that you care about. In that order. If there is time to grab memorabilia while you're at it, do it. But make sure that your loved ones and pets are taken care of first.
We prioritize collecting your most important documents first. These may include the following:
• Social security cards
• Passports
• Birth certificates
• Marriage certificates
• Immunization records
• Immigration documents
• Foster care records
Raise an Alarm
Inform everyone else in the house and the building of the fire emergency by screaming at the top of your lungs.
Do not rely on fire alarms and smoke detectors to inform others, they may malfunction due to various reasons (such as battery failure or damage).
Turn Off Utilities
This step is only for individuals who have determined that they still have time to contain the damage. Start by turning off all utilities in your home to avoid gas explosions and burst pipes that are known to occur during a fire emergency.
Call 911
Once you and your loved ones have reached a safe space, pick up your phone and call 911. If your phone is stuck inside the house, do not go back in for the device because you may catch some of the flames. Vacate the property and ask someone nearby to call the fire department on your behalf.
Leave the Valuables Behind
The thing about valuables is that you can always buy them again. Don't let a precious item delay your search for the best possible route from a fire emergency. You can always inform fire safety officers about where you last saw your valuables.
Do This If Your Clothes Catch Fire
If your clothes caught some of the flames, try not to run. This is because running provides more oxygen to the fire, which can cause the flames to grow. Instead, you should drop to the floor and roll over to put out the fire. Stay low to the ground, take short breaths, and crawl out to safety.
Stay Close to the Ground
The air quality will deteriorate rapidly and there will be smoke and debris everywhere. It is important to get down and crawl, taking shorter breaths through your nose. Cleaner air can be found near the floor.
Cover Your Nose
Smoke can be hazardous during a fire emergency. Make sure to cover your nose with a shirt or damp to prevent smoke from getting into your lungs. If you have children with you, cover their faces as much a possible while escorting them out to safety.
Close the Doors Behind You
Once you have made your escape from the fire emergency, close the door behind you. Studies show that closing doors can prevent fires from further spreading, or at least buy firefighters some time before the fire can find a chance to grow even stronger.
Rest and Recover
Once you have evacuated the house, it can be tempting to go back in and find your valuables. But there's nothing more you can do. Even if you've left your animals and property behind, do not go back in. Inform the fire department officers that there are people or pets in the house and provide them with instructions about their possible whereabouts.
Stay Close With Friends and Family
After you've left the house, meet with the rest of your family members at a location where everyone can stay while the house is being rescued. It is important for family members to stay close to each other to prevent fire officers from searching for people who have already escaped from the fire.
Wrap Up
Fire emergencies can be scary situations and cause a lot of destruction in their wake. It is important to stay calm, find an emergency situation, rescue people along the way (if you can), and alert everyone else. Call for help and stay out of there.
These are some of the tips you can follow to stay safe if a fire emergency ever happens in your home. If you have suggestions or want to share your own experience with fire emergency situations, do let us know!
Now that you are out of the fire, you will need fire damage restoration services in Denton County for a complete reconstruction, clean up, and odor removal. Has your home been damaged by a fire? 911 Restoration offers fire restoration and clean up services. Visit our website here or call at this number: (972) 217-8245